COVID Health Screening and Tracking Application
Our Lady of Mercy Keeps Students and Faculty Safe with COVID-19 Health Screening and Tracking Application

Summary
Due to the worldwide pandemic, the education entities are under the pressure to have a safe learning environment in place for faculty members and students to return after the summer. An effective health screening and tracking system becomes crucial for a re-entry plan.
Our Lady of Mercy School for Young Women, a private Catholic school in Rochester, NY, needed to act in the best interest of their community to implement an effective way to screen and track their 750 students and 120 faculty members for COVID symptoms.

Knowing who has experienced symptoms and understanding those trends over time is key to reducing the chances of a widespread outbreak.
Situation
In order to screen students and staff, ProArch implemented a web-based health screening application. The ProArch application development team utilized an open source employee chatbot project created by the University of Rochester Health Lab as a starting point. After testing and fixes, ProArch added features for Active Directory integration to identify and authorize faculty and students, branding, reports, terms/disclaimer and guest/visitor assessments. The team deployed the application to the Azure Cloud for a secure, low maintenance implementation.
Using a QR code, URL or shortcut, users access the application to capture their assessment before entering the school. The application initiates a self-assessment survey for students, guests, and faculty to confirm that they have experienced no COVID symptoms.
The survey asks, 'have you had any of these symptoms in the past 24 hours that are new or not usual for you?' And then shows a list of symptoms: fever, cough, hard time breathing, sore throat, body aches.
Solution
If a user responds 'no' they have no symptoms- a green check mark appears which is used as verification for entering the school.
If a user responds 'yes' they have experienced symptoms- a message appears instructing them not to come to school and the appropriate people to notify.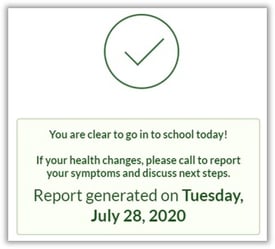 In addition to screening students, faculty and guests for COVID symptoms, the COVID Health Screening application provides faculty and staff members a mechanism for tracking:
• Students and faculty that are not confirming symptoms
• Trends of symptoms that may impact re-entry plans
• Students and faculty that may have been exposed
Benefits
The goal of the application is to keep someone who isn't feeling well from coming to school and infecting others.
With the health screening app now live, Our Lady of Mercy has the data and real-time intelligence to bring students back in a safe manner:
By knowing immediately if anyone has experienced symptoms
Ensuring students, faculty and guests with symptoms do not enter the school
Reporting on who has had symptoms and identifying classes / groups who may be at risk
Understanding how many people are reporting symptoms each day, and how those trends change over time
Testimonials
"I was confident moving forward with the project, with the ProArch team by our side every step of the way through the data center migration and ongoing maintenance and optimization."
"The improved turnaround time and the scalability of Azure allows us to take on larger customer projects without having a long stop gap between getting the new contract and getting the customer up and running in our world. This allows us to be more responsive to customers and we can achieve our goals much faster."
"ProArch continually demonstrated great expertise and has been an asset to us. When we needed help, we could rely onProArch to jump on it immediately to either to identify a solution or schedule time to work on it. Since ProArch has such a strong relationship with Microsoft, at times they were able to reach out to resources not available to us and were able to get the answers we needed."